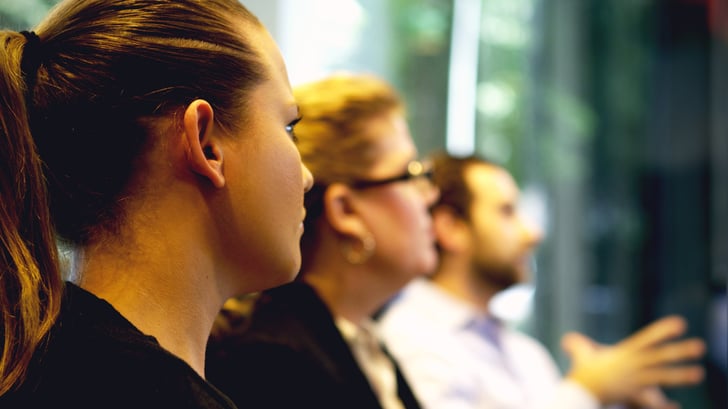 Step Up Your Game
Against dwindling attention spans and an increasingly rapid pace of business, emails get lost in the shuffle. Newsletters are skimmed and tossed aside, meetings interrupt workflow and try as you might — important information just isn't getting through to your employees.
Inarguably, we aren't dealing with the same workforce as 15 years ago. Or the same workplace, for that matter. Tech savvy, media-loving millennials currently make up the largest portion of the U.S. labor force, and Generation Z (who loves media even more) just entered the scene. Nearly every aspect of business hinges on technology, and the bottom line is — we don't communicate with the world around us in the same way we once did. Internal communications must adapt.
One solution to this communications conundrum is greater use of video.
The average employee already watches about seven hours of work-related video per month.
44 percent of executives agree that video will be used as a vehicle for communication in there organization within the next 5 years.
87 percent of executives believe video has a significant and positive impact on organizations.
5 percent of executives believe video is "important" or "the most important" for their internal communications.
Picture the most common ways you communicate internal information with your employees. Let's take a look at how video can make them better:
---
1. Company Newsletters
Newsletters are an important communication that helps employees feel involved and up-to-date on how their performance impacts company-wide success. But business is busy, and they don't always have time to read up on what's new, changing or noteworthy.
Video newsletters turn routine company updates into fun and entertaining briefs. By allowing employees to actually see the impact of their efforts, video newsletters also act as an effective motivational tool. Instead of feeling like corporate is adding another task to their to-do list, employees can effortlessly watch engaging company updates during a break, at lunch, or even on the go via mobile device.
2. Mergers & Acquisitions
If employees are left to draw their own conclusions, mergers and acquisitions can really rock the business boat. Rumors spread, misinformation gets accepted as truth, and people begin to feel stress or anxiety about their job security. Video is an effective way to offer employees transparency and stifle speculation.
Whether your organization is merging, absorbing or being bought out by another company; video provides a more personal introduction to the new entity. Instead of telling employees about the exciting new benefits of a merger or acquisition — show them. For example, videotape highlights about a project that's currently underway because of the organization's new acquisition.
More importantly, video allows leaders to help employees see the merger or acquisition as a good thing by strategically evoking positive emotion that text alone cannot do.
3. Employee Training
When it comes to employee training, there's a lot to learn and retain in a little amount of time. If organizations fail to engage new hires throughout the duration of their training — new hires may not be prepared to effectively carry out their job responsibilities.
Ergo, video makes for a great teaching tool. It's appeal to sight, sound and emotion make it undeniably engaging and from a scientific standpoint — our busy brains prefer to receive information this way.
4. Safety Initiatives
For companies like Nalco Champion, an Ecolab company that provides chemistry programs and services to the oil and gas industry, there is zero room for error when delivering safety information. That's why they use video for their safety initiatives.
Safety videos allow organizations to hyper-focus employee attention and simulate how to deal with safety issues without putting employees in harms way. Moreover, videos ensure safety information is delivered consistently, and doubles as documentation that your organization is compliant with industry regulations. Most important of all, video safety information has a better recall rate, which means if an issue does arise at your facility, employees are more likely to react in a timely and effective manner.
5. Employee Recognition
Recognizing your employees by creating a video to showcase their achievements is an excellent way to convey just how much your organization values them. There's something powerful about film that awakens human emotion and delivers a level of sincerity even an in-person "thank you" can't always match. Furthermore, employee recognition videos exemplify what a star employee looks like, and supercharges motivation across your organization.
No matter the type of information your organization wishes to convey, make a vivid and lasting impression. Using video for internal communications speaks directly to the way in which modern day employees prefer to receive information. And from an organizational standpoint — your employee satisfaction and turnover rate, company culture, and productivity levels will thank you.