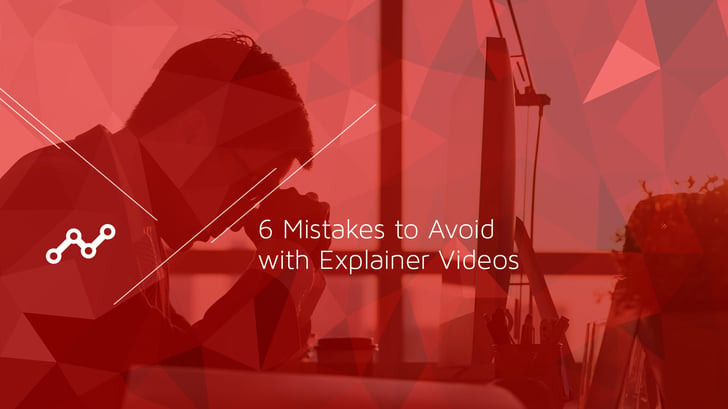 Don't mansplain your process
Developing explainer videos that can fully explain a process in under 90-seconds is quite a feat. But before you dive into the creation of the explainer video, you need a plan. You need insights on who you're trying to reach, what questions they have, and how you should properly address their concerns.
Where do explainers fit into your marketing strategy?
Customers are constantly changing their perspectives – they're moving through a process called the 'buyer's journey'. The buyer's journey is made up of three different stages that represent the research and process a potential customer goes through before they make a purchasing decision. Those stages are:
Awareness
Consideration
Decision
Explainer videos have a perfect home in the consideration stage of the buyer's journey. After a prospect moves through the awareness stage, they know what the specific problem is, and is now expanding their research and 'considering' different solutions. As you can see, explainers have a perfect fit here - they do a great job of summarizing the problem, explaining your solution, and establishing the introduction of the brand.

Now that you understand where explainers fit into your strategy, let's cover some mistakes you should avoid when you gots some explain' to do:
1. What a DRAG…
Today, everything must be entertaining. If you can't grab someone's attention, your efforts are wasted. You absolutely cannot be boring. And that's what long videos are – BORING. Humans have forever decreasing attention spans, so you can't make your video longer than it should be.

Here are some tips to keep your explainer video short and sweet:
Make your message concise.
Keep your video length to 90-seconds.
2. Neglecting your target audience
Very few products have universal appeal. Everyone is not interested in your product or service. And the one-size-fits-all mentality will have you wasting major time and resources. Instead, just accept and plan to talk to a specific group of people, and craft your message to your target audience. How? Utilize your personas, and the following info:
Feature actors or actresses that look and act like your target consumers
Place your people in situations that will be familiar to your prospects
Use similar wording that they use
3. Ignoring the importance of a good script
A good script creates a foundation for the rest of the video. Some marketers who attempt to make videos on their own try to skip this step, and don't flesh out the script. HUGE mistake.

A good script will lay out how to clearly communicate your message, and provide a brief look into or at your brand. The best way to build the video structure with your script, is to:
Present the problem.
Intro the solution.
Explain the process or how it works.
Create a call-to-action.
4. Overlooking a video's quality
News flash – a video with an OK quality is not enough. Your audience has become accustomed to viewing high-quality video content, and will simply scroll past anything that looks mediocre. So, although it may be tempting when all you see is $$$, don't cheap out on your explainer video's budget. Splurge for the video partnership.

Video content is an investment. When executed well, videos can foster new leads, boost brand awareness, and increase your brand trust. Your video can't accomplish any of this without having high quality video production.
5. Focusing on features, not benefits
Most likely, your audience doesn't want to learn the intricacies of your complicated product or service. But, here's How to Market Your Complicated Product. Rather, your audience wants to hear how your product or service solves their problems.

A feature is something that your product is or has.

Benefits are the results that a user will experience by using your product or service. You don't want to create an explainer that sounds like a list of specs that only appeal to people in your industry, who know the specific terminology. Appeal to the emotional side of humans, and create a scenario where people can imagine themselves using your product/service, and envision how it will improve their lives. A list of features that are listed out via a voiceover will not accomplish this.
6. Speaking TOO seriously
Business is a serious matter – we all know that. But that doesn't mean you shouldn't have some fun, and entertain your audience. What else will capture your audience's attention?

Humor is not a tone that works for every industry, but it is the easiest form of entertainment - not necessarily easy to accomplish, but it will easily entertain your potential consumers. But if a funny tone will absolutely not work – you can throw in some animation and motion graphics to spice it up.
---
Explainer videos help simplify convoluted topics, but mistakes can be made. So,
partner with a video content agency
to avoid the 6 mistakes we mentioned, and more!