The Best Video Strategy for Every Stage of Your Buyer's Journey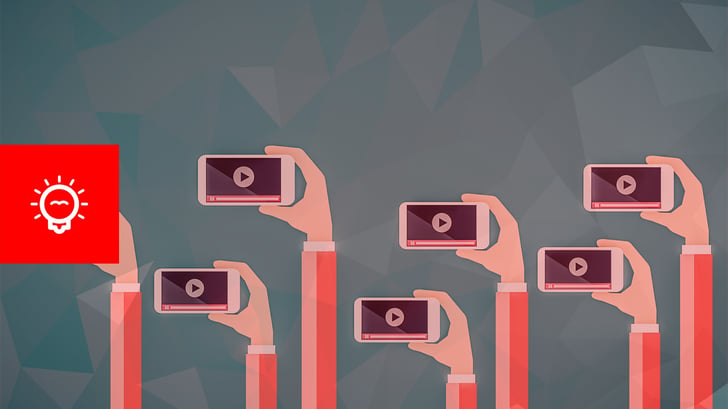 Video content marketing is like pairing a fine wine with fancy food
The greatest marketing challenge is delivering the right message to the right person at the right time.And here's the kicker — people are a moving target. They're in a state of constant change and moving through a process we call the 'buyer's journey'. The buyer's journey is made up of three different stages that represent the research and process a potential customer goes through before they make a purchasing decision.
Awareness
Consideration
Decision
Just like a Pinot Noir pairs perfectly with a braised pork chop, awareness, consideration, and decision is best served with specific types of video content. In today's article, we invite you to take a seat at the content marketing table while we explain the best video campaigns to pair with each stage of the buyer's journey.


Stage No.1: Awareness
Potential customers have a problem, desire, or curiosity, and seek information and potentially the answer/solution online. This is your brand's chance to smile, play it cool, and make a great first impression.
Video Content Pairings
How-To Videos: These video marketing campaigns focus entirely on helping potential customers develop a better understanding of whatever it is they are searching. As you create a how-to video campaign, answer common questions your prospects ask and focus messaging on information about the things your prospects want to know more about. If you succeed as their educator, you position yourself as the authority on the subject and earn a greater, more influential role in the remainder of the buyer's journey.
Branded Videos: These video marketing campaigns focus on entertainment value and showcasing your brand's character, personality, and values. As you create branded videos, don't take yourself too seriously. Have fun with these types of campaigns; it'll rub off on potential customers, which helps create a memorable first impression. Additionally, keep these videos short; no more than two minutes.
Example:
Western Valve
---
Stage No. 2: Consideration
Your potential customers are more knowledgeable now than they were at the beginning of their journey. Now they need specific information to help guide their next step. They have defined their problem and are looking at potential approaches or methods available to pursue the goal or solve the challenge. Your brand needs to get a little more detailed in how it talks about its solution. In this stage, your brand should also be thinking about any issues that will prevent the potential customer from moving on to stage three, and how they can be resolved.
Video Content Pairings
Explainer Videos: Explainer videos include detailed information about a product, service or brand concept. You'll want to keep these short (two minutes or less) and highlight a problem the target potential customer has. Then, use your product or service and show them how and why it's the ideal solution.
Pro Tip: Animated videos are excellent for explainers, especially if the product, service or concept is complex. Animation can illustrate things that we can't necessarily capture on camera in real life. Need more explanation on the explainer? Check out this blog.

Example: Nitro Lift Animated Explainer
---
Stage No. 3: The Decision
This is the final stage of the buyer's journey. It will hopefully result in a purchase, but your brand's fate isn't sealed just yet. Your potential customer needs affirmation; they want to know for certain that they are making the best possible decision.

Answer the golden question, Why is your brand the best solution?


Video Content Pairings
Video Testimonials: Video testimonials are the best form of validation for your product or service. Potential customers are more likely to trust their peers than a brand representative. And these videos provide a unique opportunity for your brand to showcase how well its solution worked out for others.
Behind-The-Scenes or About Us: These videos help you connect on a deeper level with potential customers and provide an opportunity for your brand to show off its authentic self. Introduce your potential customer to the people behind the product or service. Showcase your unique company culture and humanize your relationship with your potential customer.
Here's an example that blends both forms of content into one powerful campaign: Effex Company Overview Video

Anyone can learn the most basic skills of a sommelier, but it requires specialized training and years of experience to develop the palate of a wine expert. Likewise, your video marketing campaigns are best recommended by a video marketing agency. A team of specialized video marketing professionals will quickly identify your content needs and beautifully craft exactly the right kind of video for your potential buyers.
---
Interested in watching more examples of the different types of content you can serve up? Check out our work!