5 Tips for Improving Emails with Video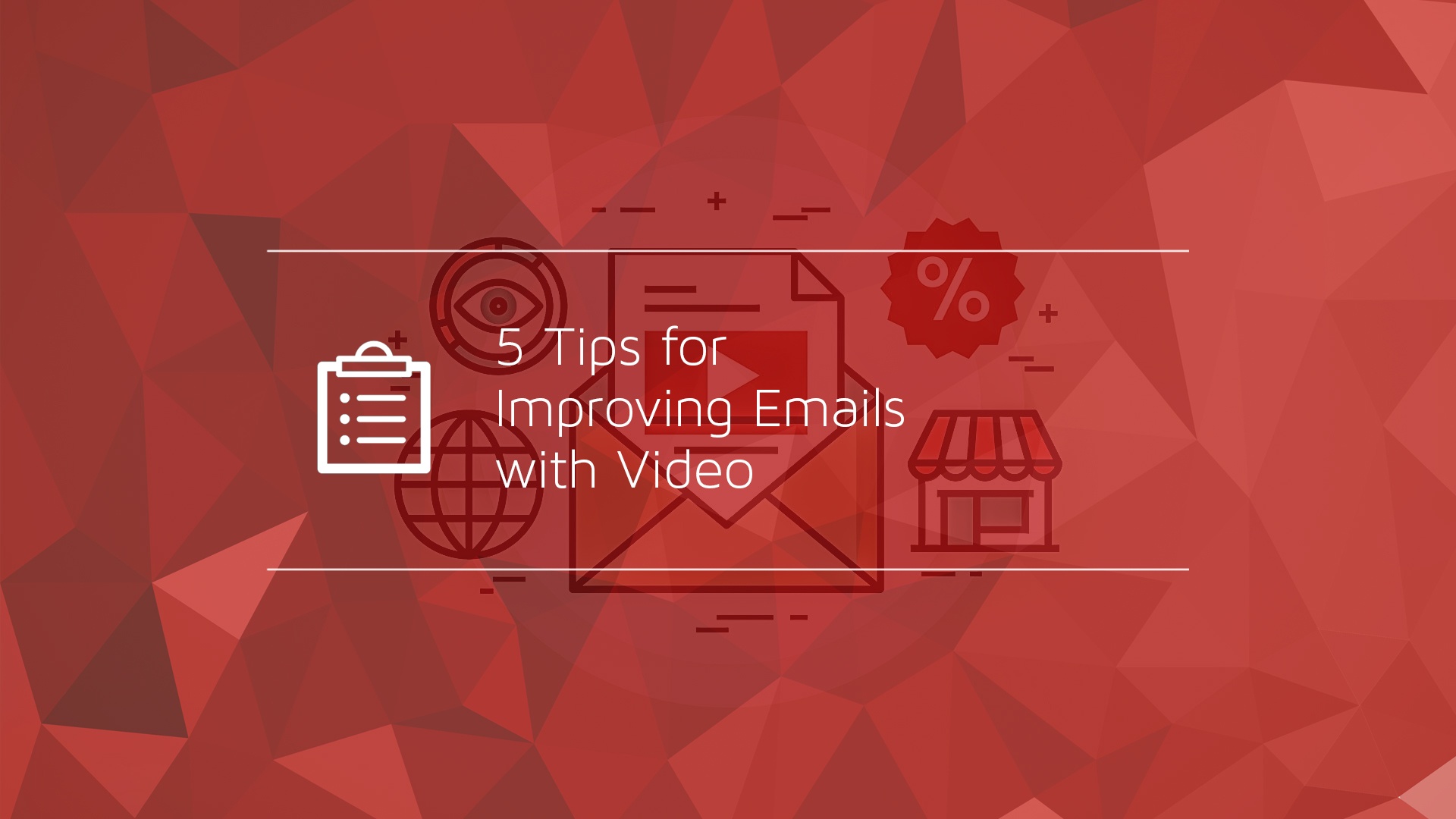 Video emails not producing the desired results? Hint, hint, it's user error!
A lot has changed since the dial-up internet days, but one concept that survived every internet evolution is email. However, email's mere survival isn't what marketers marvel. It's the fact that email is still one of the most effective marketing tools in the box!

According to Campaign Monitor:
Email has an ROI of 3800%
Worldwide email accounts are expected to reach 4.3 billion by 2017
92 percent of online adults use email, and 61 percent use email daily
57 percent of email subscribers spend 10 to 60 minutes a week browsing marketing emails
Powerful stuff, right? And these statistics get even more compelling when video enters the mix.
Video in an email leads to a 200-300% increase in click-through rate (HubSpot)
Businesses using video grow company revenue 49% faster year-over-year (HubSpot)
Using the word "video" in an email subject line boosts open rates by 19% and reduces unsubscribe instances by 26% (HubSpot)
In other words — the potential of using email and video together is astronomical. But you can't just slap an .MOV file in the body of your email, blast it out and expect incredible results. Video email marketing takes serious strategy, deep audience insight, and plenty of A/B testing to get every detail just right. If you already use video in your email marketing strategy but aren't seeing the results you want, bring in a video marketing partner with the experience to quickly get your strategy back on track. You can also try these 5 tips:
1. Unleash Your Brand's Personality
Email is great, except when your message gets misconstrued. Text doesn't convey your tone of voice, hints of sarcasm, or character. Sometimes, it's also not the best vehicle for the information you're trying to convey. Including a video in your email is the perfect way to bring some personality to the correspondence. Shoot and share authentic videos that capture the charm and charisma of your brand. You don't have to be funny or silly. Just be you. Doing so will humanize an otherwise cold and distant form of digital communication.
2. Display a Winning Poster Image
Your video poster image is the little thumbnail that viewers see before they click on your video to play its contents. Just like we judge our interest in a book by its cover, we also decide whether or not we want to watch a video based on its thumbnail. Here's an article that tells you everything you need to know about creating a click-worthy poster image for your video.

Pro tip: You can also create a GIF using footage from your video. There are dozens of GIF creation tools that are quick and easy to use.


3. Create a Video Series
Create a series of videos and incorporate them into an email campaign that keeps audiences anticipating the next episode. Audiences prefer bite-size, "snack-able" information. A video series is also a great way to repurpose long videos and sustain your content strategy.
4. Put "Video" in the Subject Line
Remember that little gem of a stat we shared above? Using the word "video" in an email subject line boosts open rates by 19% and reduces unsubscribe instances by 26% (HubSpot). But don't just assume including the word "video" will magically bolster your numbers. A/B test this tip on different audiences and observe how it influences email performance.
5. Remember Your Audience
Poor video email performance is often the result of failing to send the right content to the right person at the right time. Segment your contact lists, use personalization to capture attention, and send your emails at peak performance times depending on who your audience is. Smart Insights developed an incredibly handy infographic to help you decide the best time to send.
---
Effective video marketing is a major undertaking that is as labor intensive as it is critical to your survival in 2017. And distributing your videos through one channel isn't enough. Your audiences expect a multi-channel presence that is consistent, engaging, personalized and helpful to them. A video marketing agency will seamlessly align with your existing marketing team and assist in strategy development, budgeting, video content creation and distribution to help you achieve the goals you've set this year.