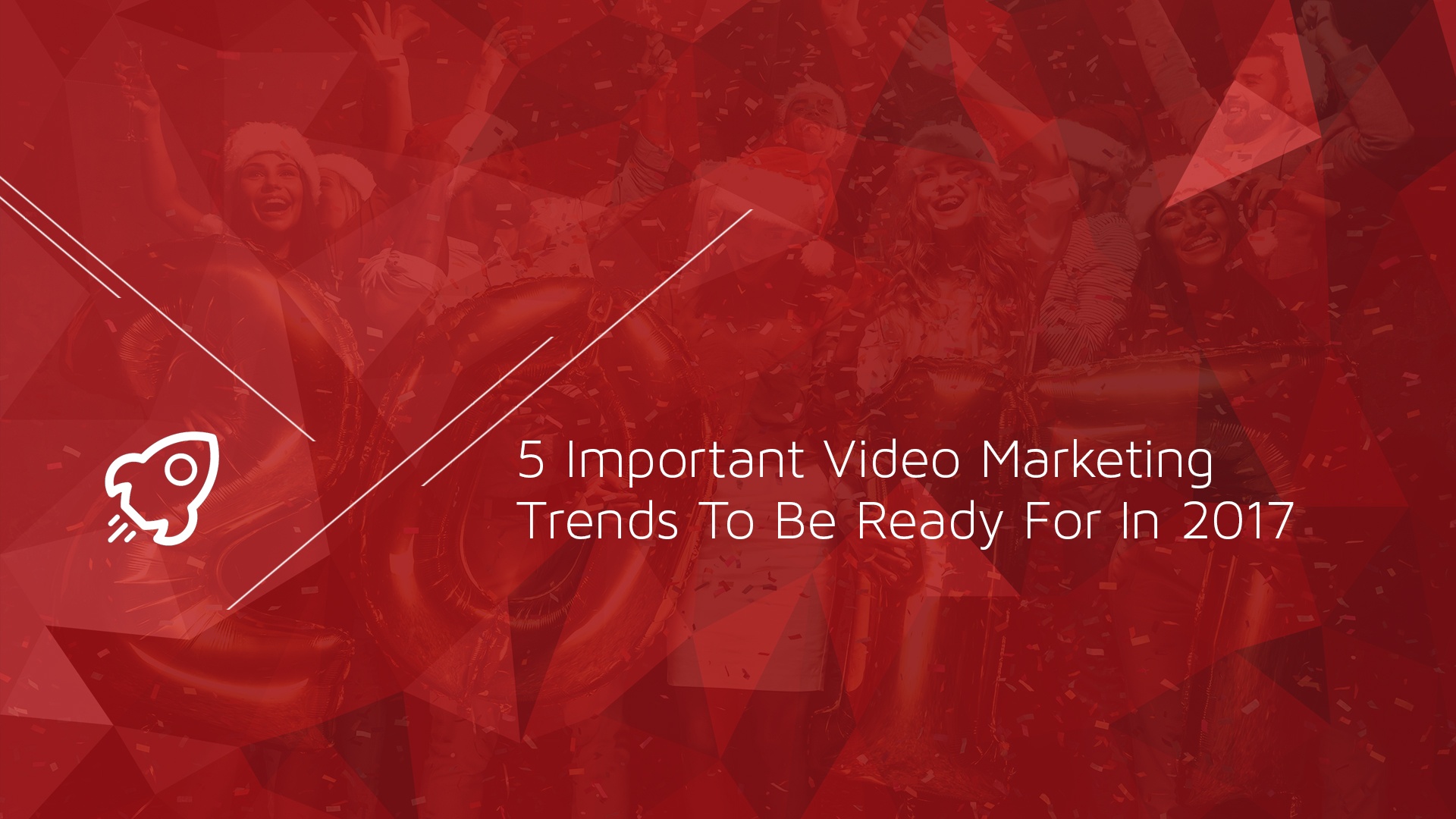 Hold on to your hats, things are going to get crazy!
Just kidding. Kind of. Things could get crazy for you in 2017, video-wise, IF you're currently behind. If you're already aboard the video marketing train, this article probably won't come as much of a surprise. And if you need some help getting there, check this out, then come back and join the party.

2016 was filled with innovations and advances for video marketing. Facebook, Twitter, and YouTube all took major strides in the live video department, virtual reality video became more than just an out-of-reach gimmick, video asserted itself as a leading medium with which to boost sales, and Adobe launched their answer to the all-too-often asked question, "How do I see if my videos are working?". Even detailing these grand accomplishments is still selling the year short. 2016 was ripe with change, innovation, and acceptance, all surrounding the #1 medium for divulging marketing communications - video. So what does 2017 have in store? A lot more of the same!
---
1. Live Videos will Become as Common as Video Ads

When live video first came to social media (THINK this girl on Periscope) it wasn't very well received. It was regarded as a strange new fad, reserved for narcissistic millennials hell bent on sharing every aspect of their "incredible" (or, like, totally super horrible) lives with the world. But times have changed.

Twitter's acquisition of Periscope, Facebook's signing of deals with major TV networks, and YouTube's live video search incorporation and mobile capabilities push all served to legitimize live video in the eyes of marketers everywhere. 2016 saw brands like Air BnB, Disney, Chevrolet, Buzzfeed, Dunkin Donuts, EA Sports, ToughMudder, Benefit, and Tastemade, among many others, make substantial forays into live video. And nobody is slowing down.

According to Tubular, Facebook live stream accounts grew by over 200,000 in the six-month period from January to June. YouTube Live video views have grown by 80% over the year; while livestreams have increased by 130%, says Financial Times. And from major news networks and personalities, to esoteric politico wannabes, it would've been tough to find someone NOT live streaming the presidential election.

Live video will continue to grow in terms of scale, capability, and practical value over the course of the next year. By the end of 2017, our social media worlds will be populated with as many live streaming videos as video advertisements.
2. Immersive Video Experiences will be Demanded


One of the biggest drivers of live video content has been peoples' insatiable desire to be immersed in their content. It's no longer enough to view content, people want to engage with it.

The new mass accessibility of technologies like 360 video, virtual reality, and even augmented reality have made things easier for marketers, but that doesn't mean that everyone is feeling comfortable. 2016 has been a stampede of "Who can do the coolest things first...", and some mar-com pros are left wondering, "Where is the value?".

The new year won't be wanting for immersive content, it'll have that in droves. The difference will be that people will come to expect this type of content, so marketers will need to spend more time figuring out how this slick new video tech fits into their marketing plan, and how it can bring actual value to their customers.
3. Video Will Become the #1 Sales Tool


It's a pretty widely adopted theory - especially if you're a proponent of inbound marketing - that video is an incredible sales tool. But in 2017, video will become the primary sales tool.

Sales and marketing teams will continue to become interconnected, constantly looking to each other for ideas on how to do better. Video is the best of both worlds - it helps marketers paint their brand, communicate messages, and generate buzz, and it helps salespeople showcase products, explain services, and answer key questions. And overall, video drives business growth, the key accomplishment for which both departments strive. Video is already (or should be) paramount to every company's marketing department. In 2017, sales departments will get on their level.
4. Video Analytics Will Reign Supreme


Who's watching your videos? When are they watching them? Where are they watching them? These are important questions easily answered by modern video analytics - nothing super groundbreaking. But for the longest time, only the most advanced, marketing-centric organizations have paid close attention to these insights. Not anymore.



In a world where

Facebook sees 8 billion average daily video views from 500 million users (TechCrunch), and

87% of online marketers

are utilizing video content, you can't afford to not be paying attention anymore! If you don't know what your video content is doing, and how it's performing, and what people truly think about it, then your video marketing strategy is doomed to fail. 2017 will see many marketers finally coming to this realization, and we'll experience an overwhelming push toward the metrics.
5. Video Partnerships Will Become Crucial


Determining how to use live video, creating valuable interactive content, integrating video into your sales strategies, keeping a close watch on your videos' analytics...and that's on top of all of the regular stuff you have to do with your video content strategy...good lord! Don't get too stressed out, there's an easy solution - partner with a video marketing agency!

We've said it ten thousand times, but we'll say it again - video is no longer a one-and-done medium. Gone are the days of spending a quarter of your budget on one video for the year. Today is the day of video partnerships. Of long-term, fruitful agreements with agencies who arm your organization with on-demand video capabilities, integrated content strategies, and powerful insights. Next year is the year that these facts finally become common knowledge.

Don't let your 2017 content slip through the cracks by continuing down the same partner-less path your organization has been on for years. If you're even considering utilizing video as a form of content, you need to bring in an experienced video marketing agency to help guide the process.
---
What Marketing Feats May Come
As we say goodbye to 2016 and usher in the new year, let us not dwell for too long on how far we've come. Instead, let's take what we've learned, put on our thinking caps, and get to work prepping for next year. If you start now you can ensure that 2017, which will be the best year in video's history, and will be the best year for your marketing communications as well.

A 2017 video marketing planning session with a video agency is a great way to get the creative juices flowing and develop an effective video marketing plan. It just so happens that we're ultra prepared for exactly this type of endeavor. We're ready when you are!